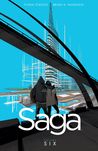 Saga, Vol. 6
by
Brian K. Vaughan
My rating:
5 of 5 stars
Re-Read 5/16/18:
My god. Right in the feels.
There's just something about this series that grabs hold of you and whips you from side to side as it gnaws on you before spitting you out, licking the stumps of your missing legs before licking your face.
I love you, but I seem to have eaten you. Sorry!
The end of this volume is so happy! So. Happy!
Can I "allegedly" murder someone now?
Original Review:
Saga is STILL the biggest place to be if you want smart stories, fantastic art, deliciously evil humor and adult situations, and a rocking romance for the ages that doubles as social commentary and an epic rescue and tragedy all rolled into one.
Sound confusing? Yeah. Blame that all on me. The fact is, this series, and specifically this volume... ROCKS.
I'm of the opinion that this is the STANDARD TO BEAT, and I've read a lot of comics.
Not only is this independent, but it just GOES all the places it wants and it does it brilliantly, not caring a whiff about what anyone else is doing or thinking. It's Art, man. ART. :)
I can't believe how great it is. Do I sound gonzo? I am. I don't care. This is the BOMB. :) Still. :)
View all my reviews