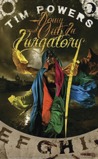 Down and Out in Purgatory
by
Tim Powers
My rating:
4 of 5 stars
This novella is a relatively quick read. It really just focuses on the imaginative bits that Tim Powers is known for, and it finishes on a single relatively easy-to-predict premise.
It has a noir feel, which shouldn't surprise anyone by the title, but of course it's really about death and moving on. Literally, in this case. It might be billed as a literary piece turned into an UF turned into a dark and dirty streets gumshoe pulp. And why not? Purgatory isn't supposed to be a particularly *nice* place, and should it surprise anyone that the best it has to offer is the ride? Of course not.
I can say, however, that the imagery is beautiful, the world-building is interesting, and while the incremental ticks of our MC's metamorphosis as he goes through his to-do list is really quite minimal, I'd expect more for a full-sized novel.
Thanks to Netgalley for the ARC!
View all my reviews