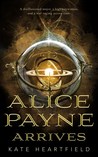 Alice Payne Arrives
by
Kate Heartfield
My rating:
4 of 5 stars
Time travel.
Sure, it has been done a lot over the years, but then, so has detective tales, historical novels running over the same old grounds, or vampires. The key to a good tale is in the depth of detail, the strength of the characters, and the piledriver of the plot.
Fortunately, Heartfield rams it home in this novella. Does it feel like the beginning of a serial? Absolutely. Is the novella still fun to read on its own, with lots of time-jumping, future world-building, and conflict between hoards of other time-travelers attempting to correct other factions' wrongs or fix history, thereby making a botch of all history? Hell yeah.
It's a strong entry. It doesn't hurt that the lead female is gay and her lover is an inventor from 1788, or that there's an almost heist-like feel going on in the plot, or that the young Alice is half-black.
It's still good to be a time-traveler. :)
My only complaint is nothing much of a complaint. I want to have the full arc of the story in my hands, not just the attempted fix of history. :)
View all my reviews