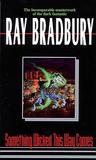 Something Wicked This Way Comes
by
Ray Bradbury
My rating:
5 of 5 stars
I remember watching the Disney movie back in grade school. It fostered my horror of carnivals and men in top hats, music played backward, and the eerie irreality of people changing ages as they would change hats. As an adult reading the text, I was understandably awed by the rich metaphor and playful language.
Re-reading it now makes me melancholy.
Gone are the years that would support friendly neighbors in small towns where everyone knows everyone else, when the death of a barber actually makes a stir.
The fact is, this is an extremely bucolic coming of age tale centered on the choice to be good or bad with a lot of supernatural help.
Add a spattering of Stephen King's IT, a dab of Mary Poppins, stir firmly into a smooth wordplay of rife with the pastoral, and you've got Something Wicked This Way Comes. 1961.
I honestly don't know if it would stand the test of time for the newer generations. It is theoretically timeless by design, but despite my own personal memories, my objectivity wonders if it falls into a different category.
Mark Twain has appeal because it hits both the historical and the universal in just the right ways. Does Small Town Illinois during a carnival have the same staying power? Maybe. But let me be honest... my tastes have changed a lot since grade school. :)
This is not flashy even though it has great horror scenes. It's slow to develop although it goes at a whirlwind pace in places.
I'm still giving it 5 stars because it is objectively a beautiful piece of writing, but some of its power is slipping from my heart. Alas.
View all my reviews