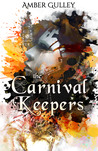 The Carnival Keepers
by
Amber Gulley
My rating:
4 of 5 stars
Are you hoping and wishing for a Victorian novel full of monsters-as-characters and an unabashedly and shamelessly horror-strewn cityscape full of magic, spirits of light and darkness, mur-maider and evil Fae? Then *perhaps* you ought to take a little turn into this dark alleyway.
Surely, it's not just little urchins who are welcome to this dinner table!
From nearly the beginning of the novel, we're treated to the grunge and the gore strewn alleyways, many-limbed monstrosities and the chance to join the monsters on a monster's quest. Eat heartily, my hearts, and fear no lighthouses!
The opening probably wasn't the smoothest I've ever read, but the rest of the novel was rather fearless and fun. There's plenty here to keep all monster fanatics on their toes. I just hope you're not really rooting for the "good" guys. They're all a bit flawed and I had a bit more fun with the monsters, anyway. :)
Think modern gorefest meets dirty England under gaslights, focus on the fascination of the supernatural, from seances to magical items to a whole carnival of monsters, and of course, a talking cat. I'm sure you'll have fun. :)
Thanks to the author for the ARC! It was a blast.
View all my reviews