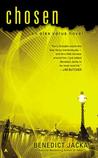 Chosen
by
Benedict Jacka
My rating:
5 of 5 stars
This one had a pretty nice flavor and I think I liked it much more than the previous one. Verus is beginning to gather a good handful of friends.
But, alas, this novel brings out all the old skeletons in his closet and tests not only his ideals, but his friendships. Can a dark past truly be overlooked? Is it right to even do so?
The brother of one of his poor victims has brought together a magical assassin squad to seek revenge on all those dark mages involved in his sister's death, and most of the novel is rightly and deliciously focused on reasoning with or narrowly escaping their wrath.
This novel dealt with the hard questions and the hard solutions, and no one came out of it unscathed, including Verus.
I thought this was one of the strongest of the novels, but I do have one complaint. I'm kinda tired of Elsewhere. For a magical realm, it does very little enhance the novels. The fact that it was used again as an information-revelation device made it seem like a kind of cop-out, but that's not to say we didn't need the information. We did. Unfortunately, it kinda dragged around the otherwise well-paced novel.
The popcorn UF is getting a bit meaty, and I have nothing but good things to say about that. :)
View all my reviews