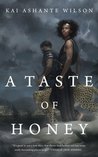 A Taste of Honey
by
Kai Ashante Wilson
My rating:
4 of 5 stars
There's a lot to love in this novella that has been nominated for this year's Hugo award, not least being the exquisite worldbuilding, the delightful mastery of SF tropes in a firm fantasy (and godly) base, and wonderfully drawn characters over the span of their whole lives.
But what I believe people are going to be most focused on is the fact that this is a male on male romance for the ages as seen through a unique culture that has roots deep and familiar but not so familiar as to be ordinary at all. Star-crossed lovers? You bet.
And gods walk the earth, interbreed, have tech that let them do fantastic science things, but first and foremost, this is a tale of love found, thwarted, and renewed. It's a very pretty tale and it's certainly a crowd-pleaser.
On the style side, I really should note that anyone who loves Jemisin's Thousand Kingdoms is going to love this. It's quite dense with goodies but none of it overwhelms the tale. In fact, the tale is king. It was, indeed, like a Taste of Honey.
There's a lot of great choices this year. If it wasn't for some other very, very strong choices, I'd have picked this one for this year's Hugo Winner just on the strength of its world building and romance, but alas...
View all my reviews