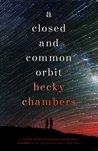 A Closed and Common Orbit
by
Becky Chambers
My rating:
5 of 5 stars
I've been looking forward to this sequel for some time and I feel kind of sad it STILL took me so long to get a copy of it! It follows two of the most interesting characters from
The Long Way to a Small, Angry Planet
, Lovelace and Pepper, but it does so by filling in the gaps, jumping from the past to the future following the end of the first book.
Do not expect a straight continuation of it, though. This is more of a very interesting dual-character study full of straight commentary and rather interesting AI/Alien/Human interactions.
Lovelace/Sidra and Jane/Pepper are both outcasts and are hiding from the law for what appear to be very stupid reasons from the reader's PoV, but it's all about context. It might as well be about same-sex relationships, but indeed, this is much more interesting for a SF fan: a love story for an AI in an illegal puppet body and the intense relationship she has with an outlaw techie. :)
Their histories are quite the ride.
Don't let me simplify this too much for you because we've got a huge cloning consortium, continuing tragedy, loss, starvation, and love for the only friend, an AI, who is lost... on one side of the coin.
And then we have the search for identity and sensation and the deepest need to be free to reprogram oneself and live the fullest life that one can.
Together or separate, I think I could follow these two character arcs forever. It's the writing more than anything else. The world-building is fantastic, the kinds of aliens diverse, but it's the depth of character exploration than cinches the deal.
View all my reviews