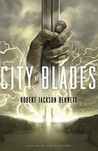 City of Blades
by
Robert Jackson Bennett
My rating:
5 of 5 stars
Thanks goes to Netgalley for the advance copy!
We're not in Saypuri anymore, Toto.
Oh, Shara, Shara, what have you done?
I'll do my very best to not reveal any spoilers, but a few things might be helpful. Shara is no longer the main character, and while Sigurd does play a pretty major role, it is General Mulaghesh that gets all the glories, glories, and ten-times the glories. I loved her nearly as much as Sigurd in
City of Stairs
, but she outshines even Sigurd in this book.
I had some reservations about the first book. I admired the very thing that made me dislike it. Bennett is pretty much a master at blending genres, and I didn't know whether I should applaud or despair the mixing of mystery and epic fantasy and mythos the way he did.
That was then. This is now. And now I'm a total convert. We've got Shara being an ass, Mulaghesh being strong-armed by her friend, and a ghost story. Sounds pretty simple, right?
No. The tale is pretty straightforward compared to the twists and turns and big reveals of the previous novel, and the end of this one does have a truly Divine Epic Resolution that is nearly as satisfying as that we achieved in
City of Stairs
, but what I was most genuinely impressed with was the Soldier's Tale. I thought it was pretty damn heartfelt and beautiful as hell.
Is it as good as the first? I think it's better as long as you're not hoping for sneaky twisty-turny plots. It's certainly more accessible, and it does have its share of great surprises.
The one thing I ought to stress, though, is that this is a Bennett novel. He generally writes rings around lesser writers. What I am comparing is this novel versus the one prior. We can't go around comparing works of facile brilliance and creativity with creatures utterly unlike it, now can we?
These, I can safely say, are works of true Originality, if only in the unique blends and surprising allocations of genre, character, and plot. I love it. I'm seriously impressed as hell. :)
Thanks for a winner, Mr. Bennett!
View all my reviews