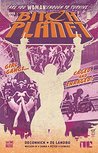 Bitch Planet, Vol 1: Extraordinary Machine
by
Kelly Sue DeConnick
My rating:
5 of 5 stars
This series is SO DAMN REFRESHING. It is an absolute indictment against all kinds of double-standards, it reads like a play-by-play scrapbook of everything that's wrong with PEOPLE. It's not just men versus women. It's everyone against everyone, with the heroes being only those people willing to live by the "I just don't give a fuck anymore," standard. Good for them!
Is this a book about modern feminism? Hell Yes. Is it skewering in bright satire everything that's wrong with us? Hell YES.
Men are the obvious targets, of course, but the commentary about women who are complicit in the system is truly scathing.
Add all this to a damn brilliant script and effortless character development and fearless willingness to show real women with natural bodies that are nude over practically every other page and equally IJDGAFA because they're on a prison planet designed for women, and you've got yourself a beautiful pink brawl of a graphic novel well on the way to becoming a personal favorite across any genre.
Yeah. I'm white and I'm a guy. So the fuck what? It's like I've been waiting for this comic all my life. I've hated the way women are treated and treat themselves ever since I could even think for myself.
I hate all the fuckwits that reduce people into tidbits and object lessons and self-reinforcing shamebarrels of defeatism. Most of my issues with YA literature revolves around the way it turns girls and women into the nightmare versions of themselves instead of just REAL PEOPLE.
This here comic is putting all the crap thinking on a spotlight, and I love it. Love it. Love it. Love it.
If you think I'm joking about the message, then sit down and read the short essays at the end. I'm so fucking proud of these women. All I can really hope for at this point is that it becomes a runaway global success that crushes the patriarchy by the sheer weight of Penny. Or it's own hollow ideals. One or the other, it doesn't matter.
It's a WIN, either way.
View all my reviews