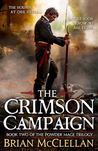 The Crimson Campaign
by
Brian McClellan
My rating:
4 of 5 stars
For all you fans of the grimdark fantasy epics, this one shines bright. Blindingly so.
I particularly like the fact that we stick with the same three PoV's as the first book, namely Inspector Adamat with his quest back at home, Taniel with his self-destructive god-killing front-line support, and Tamas far into enemy territory fighting the war against Kez while the rest of the army assumes that he's long-dead.
There's a lot of war and interesting developments, here, but primarily it's all about the war. For myself, I think I still prefer Adamat's revenge-fueled mystery at home, but Taniel's storyline probably has the most fascinating developments. It helps that a god-chef manages to steal the show practically every single time he shows up on the page. :)
I'm not generally a huge fan of extended campaigns of war but these are quite decent. I think I like the premise of the magic system even more, though. I keep imagining all these musketeers snorting vast quantities of cocaine rather than horns of gunpowder. Snort, snort, snort. And thankfully, even though some of the highs and lows could definitely be extended to such drug use, this isn't the main focus of the tale. Indeed, life and death are on the line and we've got an entire army to manage, here!
Still, it's something to consider, horribly so, for the next novel!
All in all, this is a pretty fascinating continuation and its hook is genuinely cool. :)
View all my reviews