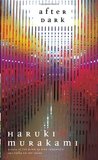 After Dark
by
Haruki Murakami
My rating:
4 of 5 stars
It's a clever little tale about night people, dreams (of all kinds), and subtle humor, mixed with grand and interesting detail in the style of so much horror fiction and a brooding (mostly) off-screen terror that lurks in the night.
Did I mention it's Japanese? Sure, it should be kinda obvious from such a big name like Murakami, but this is, after all, my first foray into his works. What can I say? I thought it was pretty damn great. I didn't have any expectations, so I just let myself flow with all the many characters and let myself enjoy the impressions and the interesting conversations and enjoy the admittedly adroit tension that lurked like a hot thread throughout the night.
I loved the whole idea of Alphaville, but then, I am a sucker for all things SF, even if it's just a discourse about SF, imaginary or not. :) But then it all ties back into dreams, too, and while the majority of the novel is so firmly grounded in reality and hard-hitting details and thoroughly interesting character studies, it has it's other moments, too. :)
I'm really looking forward to more of his work!
View all my reviews