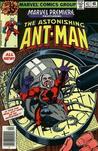 Ant-Man: Scott Lang
by
David Michelinie
My rating:
1 of 5 stars
My god. What was I thinking?
Totally mediocre 70's tripe, and just when I was planning on getting all hyped to watch the new movie starring Scott Lang as Ant-Man, an obviously better choice for Ant-Man than Pym who sounds like a douche. Or The irredeemable Ant-Man who was an utter ass without any quality whatever.
Scott Lang should have been my man... but I'm sorry, but I was bored to tears by these comics. We need a completely new imagining for him by some of our most excellent modern writers who care to make a story both intelligent and interesting. Is that too much to ask? Please don't just slap together any old piece of crossover trash. Please.
Okay, so I've been very spoiled by the last twenty years of comics, and especially by the last ten, and it isn't fair to judge a damn comic by being what the market could bear, but it bears an awful lot of trash. I could have been reading something good, dammit, and now I've just become ambivalent about a movie that I was getting really psyched to see. I guess I'll just have to sleep on it and see if my ambivalence shrinks by morning.["br"]>["br"]>["br"]>["br"]>["br"]>["br"]>["br"]>["br"]>
View all my reviews